Rocking in the Free World of America's Amsterdam: Bonnaroo Recap, 2008

By Andrew William Smith, Editor
June 28, 2008
Many who attend Bonnaroo remark on the sheer sensual overload and unique cultural experience—a phenomenon Pearl Jam's Eddie Vedder described between songs on the What Stage as America's Amsterdam. Whether it's the heat, hippies, and hacky sack or the mud, sweat, and beers, the sheer volume and variety of human expression satisfies most participants and provides plenty of topical fodder for every latter-day Lester Bangs who attends the event under the semi-respectable guise of "working" the weekend as a journalist.
Having attended dozens of smaller, freakier festivals that fall too far under the media radar to even be written about in the manner that Bonnaroo must be chronicled (hence, the forthcoming 4000 words), I see the socio-cultural aspect of the 'roo as a kind of curious sludge that—while interesting on its own terms—plays a serious second fiddle to the featured attraction: the legal maximum of nonstop American popular music in general and great rock and roll in particular.
(For me, the live music is such a magnet that I never manage to catch any comedy at Bonnaroo, rarely do any DJ sets, and this year finally saw my first film—an amazing Hunter S. Thompson documentary that I watched with coffee at dawn on Friday.)
For the serious fan searching for the epitome of eclectic lineups, it doesn't get much better than what Bonnaroo offers. And for the critics who chided producers AC Entertainment and Superfly Productions for going too mainstream, too metal, or too something for booking superband Metallica and the lightning rod of a rapper Kanye West, these decisions didn't do any irreparable harm down on the farm in Manchester, Tennessee. Attending my third 'roo and wondering how the shows could possibly top what I experienced in 2007, I embraced an exceptional platter of performances that exceeded all expectations.
Main Stage Magic
I've heard many people marvel about the communal magic created when the masses gather to hear the huge shows at Bonnaroo. Like that elusive, mystical high described by enlightened yogis, you need to experience it firsthand. While my previous experiences in that endless field had included some flashes of brilliance, these were sadly tempered by some serious disappointments. Main stage memories from my first Bonnaroo visits made me wonder if I'd ever bother venturing away from This, That, and The Other Tent or the familiar comfort of Which Stage—so close to my much-loved campsite in Guest Camping.
Between the unbearable heat of the afternoon shows that last year left me a thirsty roasted lizard and the much-too-short sets by Tool and The Police, I'd actually considered boycotting the What Stage entirely in 2008. But thanks to four fundamentally fierce shows there this year—Robert Plant & Alison Krauss, Kanye West, Pearl Jam, and The Raconteurs, I've thoroughly revised my perspective. Rather than just dealing with the huge crowds in that sprawling, litter-filled field to catch a glimpse of something potentially great but too often grating, I found myself dancing with some of my closest friends to epic shows, congregating for music's cause on what has become for me a sacred piece of ground.
Showman and Shaman
During most of the day Friday, I remained rooted at the volunteer gig that gets me to Manchester each June. Taking part of the day off from music was spiritually required to prepare myself for important plans around midnight on Friday the 13th.
But around 4:30pm, I wandered back to camp to find my sweetheart digging on the sounds of Les Claypool. I had to beg her to bypass Which Stage for more Les on the way to What, a trip I was taking to see if a certain "local" band could alter my mood about the main stage.
Moreover, this afternoon marked the anniversary of the brutal Bonnaroo branding that left me playing injured for most of the 2007 festival—an unfortunate event that transpired trying to get to another Nashville phenom called Kings of Leon, who also appeared on the main stage. Taking this hike involved a kind of healing triumph over the tribulations I've suffered in the recklessly intoxicated and strangely pious pursuit of still more rock and roll.
The first thing I noticed when we arrived at the field during the Racs second song "Hold Up" was the cloudy sky. "Give thanks," I thought, "we aren't going to fry in the afternoon sun." By "You Don't Understand Me" and "Top Yourself," the revelations began to sink in. Contrary to my years of experience and basic "small is beautiful" instincts, rock and roll is not always best confined to crowded clubs and smelly Pabst-soaked saloons. Back in April, I caught the second of the Raconteurs tour-opening gigs at Nashville's Cannery Ballroom. As special as that show was, it can't really touch what transpired in Manchester.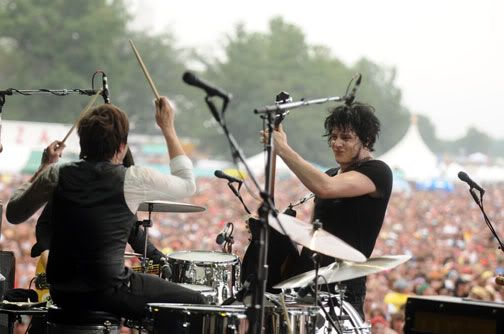 The Raconteurs; photo by Jeff Kravitz courtesy of Bonnaroo
Indeed, some artists exited the momma's womb for the sole purpose of practicing epic magic with masses—that's us, the lesser beings suddenly and audibly awestruck by the elemental privilege of being in their presence. I once believed that Jack White was merely Jimmy Page and Robert Plant stuffed into one lucky skin, but then the Raconteurs showed me Brendon Benson's McCartney tag-teaming it with Jack's John Lennon. Assessing the many shades of Jack, I saw him as the walking and wailing Wikipedia of rock history.
I still don't know what he calls that strange distortion mic, that vocal effects-thingie, but when his shit-kicking shriek gets funneled through it, the wallop brings us to our knees. I still don't know what name to give what this man does, but when he does it to as many as 50,000 of us at once, it gets kind of scary in an arm-waving and jaw-dropping way. As the blistery bar-raising version of "Blue Veins" found Jack flailing and then falling to fondle amps and monitors in a holy roller heat, I had to admit that White is more than just a showmen; he's a shaman.
At the dramatic end of "Carolina Drama," the thousands ambled out of the field in a post-orgasmic daze. I looked at my phone, and I didn't recognize the number sending something, but the text message simply said, "Jack is amazing." Indeed. (I later learned that the sender was a former student of mine who I'd seen briefly after Vampire Weekend on Thursday night.)
In "Blue Veins," as the clouds kept us cool, Jack changed the line "I think it's gonna rain" to "Do you think it's gonna rain?" I didn't have an answer, but I would later that night.
Wet and Wild Ride on the Southern-Fried Soul Train
Whenever I think about My Morning Jacket's new record (which is quite often), I frequently call up memories of Wild Cherry's 1976 hit "Play That Funky Music, White Boy." And play that funky music is exactly what these white boys did—not for the scheduled three hours, but no, for four hours in a steady freaking rain. From midnight sharp until 4am, with sheets pouring on and off of us and on the band and everyone soaked and smiling and dancing and basically silly euphoric. Rain and electronics don't mix, Jim declared, but that didn't stop the Jacket from conducting the Soul Train on its wettest and wildest ride.
The choice of opening songs—the obvious starter of "Evil Urges" segued right into "Off the Record" and "Gideon"—really gave the show its completely concentrated and beautifully catastrophic charisma—as if heaven had opened up, as Jim explained, to give us its golden rain.
Because of the weather, the crowd was incredibly tiny (especially compared to Flaming Lips in a similar, history-making, late-night spot last year)—like only a couple thousand hardcores at most. During the slower section of the first set—"Sec' Walkin'" and "Golden"—I imagine we might have lost some people to sleeping or tent shows like Tiesto and Disco Biscuits.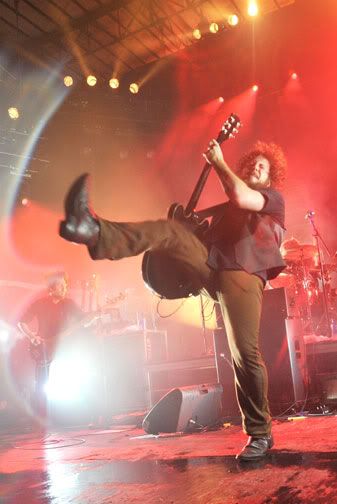 My Morning Jacket; photo by Taylor Crothers courtesy of Bonnaroo
Over 35 songs, there was plenty of time to sneak in surprises from the earlier records like "Easy Morning Rebel," "Phone Went West," and "Mageetah." But the sheer volume and fly choice of cover songs congealed the super funky bias of the current Jacket mood in bursts of groovy bravado. Covering hits from James Brown, KC and the Sunshine Band, Funkadelic, and Sly and the Family Stone obviously pleased the booty bumping faithful. But perhaps it was the superbad version of Erykah Badu's "Tyrone" that really took it over the edge.
About 1:30am, a version of "Steam Engine" turned into Tommy, Bo, and Patrick jamming and then an amazing Hallahan drum solo. But this only kept the ferocious feeling before the fiery finish to the first set. With Metallica's Kirk Hammett joining the band onstage, the always powerful "One Big Holiday" captured the collective's howling freak of nature force and poured it into our mouths in the form of rain, only to shout back at the band.
I don't think I could ever run out of adjectives to describe this supremely profound and effervescently energized early Saturday morning. Granted, the Jacket came to this Bonnaroo the week that their best-selling record yet was about to debut in the Billboard top ten and with their legendary previous Bonnaroo performances to live up to. And all that precedent and its implied pressure only prodded them to deliver the performance of a lifetime. Late in the second set, I surveyed the back of the soggy field where a handful of dervishes had plenty of room to dance without care. And that's just what they did, right up until the closing cover of a Motley Crue song.
Mosh and Mud
After the roughshod ride I took myself on in 2007, I promised to play it safe this year. Well, I almost managed to make it through the weekend without doing anything too reckless. But for the Saturday afternoon set by Florida agit-punks Against Me! I ended up moshing and crowdsurfing down front. While the primal physicality of this "dancing" appeals to the young and athletic, a middle-aged guy like me really has no business throwing himself into the fray—which is, of course, why I did it.
Feeling the raucous adrenaline after the short and sizzling Against Me! set, I craved an ever more primitive, raw ritual. Against my more refined instincts and surveying the muck puddles left by the previous night's rain, I ditched the sleeveless tee and slathered myself with gobs of Tennessee earth. After an amble to the main stage and back to catch snippet of Ozomatli, I found my way to the Centeroo fountain to start cleaning up.
We Can Share The Wine
My early Saturday antics meant missing Gogol Bordello except for a slice I heard at camp, getting only the opening moments of my Tennessee friends the everybodyfields, and only stealing a song or two of the astonishing Avett Brothers, but I took the time for a real shower and a change of clothes before the pristine pre-dusk delights that awaited at This Tent.
When Iron & Wine's Sam Beam was a film professor in Florida, I imagine it would've been an insult to call his lectures sleepy. But as a first-rate indie-folk performer, his visionary vocals and lilting lyrics induce a sleepy state not unlike the one a child gets when nursing at the mother's breast. Perhaps it has something to do with being the dad of four daughters and married to a midwife and the author of an EP and song called "Woman King," but a feminine edginess and understated feminism wash his music with a consistently healing and lo-fi intoxicant—the musical equivalent of the "love hormone" oxtocin.
At the end of another thankfully cloudy day, the people in the tent and across the field swayed to the sounds of beautiful songs like "Boy With A Coin," "Pagan Angel and a Borrowed Car," and "Love And Some Verses." I found a friend, and we walked and danced, discovering the feel from different vantage points. Slowly (everything at an Iron & Wine show is slow if not suspended from the space-time continuum itself), we wound our way into the labyrinth of love that existed closer to the stage, finding a foursome of fabulous friends with whom we danced in spontaneous and exquisite splendor until the set finally had to end. I didn't care that the people around us probably thought us on valium or ecstasy or both. It didn't matter. What mattered was this: "a butterfly wing in a summer rainfall," a "chapel bell ringing through the wind-blown trees," and "the parking lot music everybody believes"—all lines from the rhythmic full-body seduction of the main set's closing of "Wolves (The Shepherd's Dog)."
I really didn't want the sheen of this set to ever fade from our shimmering skins, but I knew it was time to return to camp to change clothes for an evening that had just arrived.
Pearl Jamming
I hate to admit it, but I don't know if I will ever forgive Maynard and Sting for the respectively too short headlining Tool and Police sets at the 2007 Bonnaroo. This annual lost weekend begs bands to do something special—whether it's cover songs and spontaneous collaborations or sets longer than what everyone else got to hear on the tour, especially if you are a headliner or late night performer.
This is no minor, nitpicky detail. This year, fans spent an original asking price of around $250 on tickets and how much more on gas, food, and libations—it's hard to imagine. Just getting to the 'roo has become a big deal during the economic downturn—this being the first of these festivals I attended that wasn't a complete sell-out and where scalpers couldn't pay more than $175 in the Manchester Wal-Mart parking lot. For better or worse, we adore our rockstars and plan the entire year around what shows we might be privileged enough to catch. But the good news is that Eddie Vedder and company get it. Pearl Jam gets it and got it good on June 14th.
At Bonnaroo, I see a lot of shows solo or with one or two friends. For Pearl Jam, we managed to organize about a dozen of us who'd spent much of our weekend working in Planet Roo to take in the show together. Holding hands and forming a chain, we found our way to the rectangle of ground behind the formidable sound-boards. Although our view of the stage is obscured in this area, the sound is always great, and we have plenty of room to dance with abandon—which is exactly what we did.
While Tool and Police had been allotted three-hour spots and played for less than two, Pearl Jam inverted that formula much to our pleasure. They were supposed to play for two hours and played for three. The solid set included so many great songs—"Corduroy," "WMA," "Life Wasted," and "Even Flow" among them.
While some 'roo fans prefer the "shut up and sing" response to political soapboxing, we knew that Eddie Vedder would try to rally the people to work for peace and justice, and his proselytizing was so heart-felt that I hung on every word. I'd never heard his "No More War" song written for Iraq war veterans, and it could not have hit me harder. While he never mentioned Obama by name, Vedder made it crystal clear what he wanted folks to do in November. Music can't change the world, but all of us together can—or something like that—went the sentiment.
The Who cover of "Love Reign O'er Me" was excellent, and cheesy or not, the closing version of "All Along the Watchtower" kicked it—and hard. Sure, I am sad that I missed the Coup because of this, but there was no way that I was leaving this show early.
The Dead Who Refuse To Die
No matter how many acts from different genres it books, Bonnaroo cannot shake its affiliation with the hippie/Deadhead/jam band scene and the accompanying patchouli-soaked stigma. This year, it finally sunk in that the festival fears no stereotype from across the subcultural spectrum and fulfills a certain religious quality among its "base constituents" by keeping this fire on the mountain burning bright.
While I was never a Deadhead, I saw the band perform with Jerry twice in the 1980s, and I still find listening to those songs a sweet and guilty pleasure if not indulged in too regularly. Not only is this preference planned at Bonnaroo, it obviously fuels a certain faith. While I didn't place anything jammy at the top of my list, I did find my way over to the Dark Star Orchestra show on Thursday night to see the huge crowd completely immersed.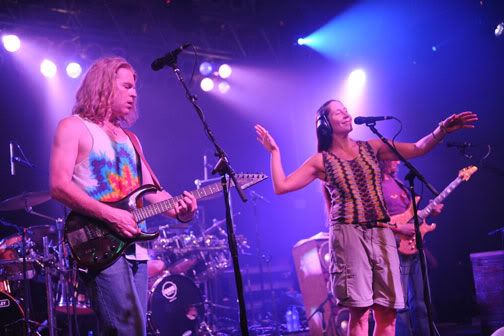 Dark Star Orchestra; photo by Jeff Kravitz courtesy of Bonnaroo
Although I didn't stay long, I got to hear "Tennessee Jed" and caught myself howling along with some home state abandon and regional pride. On Saturday, leaving the sleepy Sigur Ros set (not just the band seemed to have hit the snooze button—people were passed out on blankets and earth everywhere), we passed the much more lively Ghostland Observatory show on our way back to the van. Closing in on camp, I danced down the gravel to familiar sounds of Phil Lesh & Friends, only to fall asleep to the refrains of "Sugaree" and "Truckin'" and Phil saying something about ending early for a special morning show.
Kanye Preaches at a Controversial Sunrise Service
I don't really sleep at Bonnaroo; we might call these slivers of shut-eye the power naps of pre-dawn. Either way, late Saturday, early Sunday, after rocking a 12-hour shift of incredible shows, clock ticking towards the end of my festival, I don't know if I completely crashed after Lesh, even though I was fully quiet and horizontal. But something prompted my eyes to open before daylight.
I couldn't find my watch, barely found my spectacles and a cloak, and started to stroll through the corridors that connected Guest Camping to Guest Hospitality and finally the What Stage field. A strange hum hovered over the entire acreage (maybe I was just noticing permanent buzz of the massive generators everywhere). As I shook the sleep from my bones during the walk over, I think I heard people muttering some things about Kanye West. Finally, I had to ask someone. "Did he play yet?" "No, and I don't think he ever will" was the first bitter response I heard.
In 2007, I remember leaving Mute Math early to catch The National and getting irked that the latter were 20 minutes late. Because of how tightly the event is scheduled and how carefully folks plan their parties, Bonnaroo shows generally go down on time. Nonetheless, I hadn't been waiting with the others for Kanye and felt refreshed from my rest (if we can call it that) when I found my way to my favorite dance spot. Once there, I didn't have to wait at all, and "Good Morning" made perfect sense as Kanye landed his spaceship motif into the vulnerable and welcoming part of my brain that is directly connected to my booty.
I didn't take out the notebook to survey the people surrounding me (but many, like me, were dancing their asses off), and I could never have anticipated the backlash that would follow the next day when other performers used the privilege of the stage and access to the audience to diss Kanye publicly. Even Sunday's fallout was perhaps a calm storm compared to the online Katrina of cruelty that would attack West's integrity and imagination in the coming days.
Remembering the thinly-veiled racism and homophobia of the "Disco Sucks" movement of the late 1970s, I saw this coming. People had been waiting for a real reason to berate Bonnaroo about choosing West since back in the winter when the line-up was released—and folks would mumble gibberish about the festival betraying its base of fans by bringing the wrong crowd because of Metallica and Kanye (metal and hip-hop fans are apparently the "wrong crowd").
For me, the sunrise set said something very different, very real, very redemptive. For one, the rock festival for me has always been a grown-up version of summer camp. So, to get the "Jesus Walks" altar call at first light in an open field on a Sunday morning (Father's Day at that) provided perfect culmination for the secularly sanctified weekend that is Bonnaroo. Moreover, the glow I saw in the tired hulk of humanity around me was more powerful than a hundred glowsticks flying through a darker sky. It's that ineffable, early morning glow we see after the best raves, and it's a vibe I welcomed that Sunday morning. Just because rap is a genre where the voice is the instrument, and the beats are often recorded, doesn't mean it somehow has less musical credibility by default—but I've seen that point attempted more than once in discussing this apparent debacle.
One of the many things that makes Bonnaroo great is that the festival consistently brings jazz, blues, reggae, electronic dance music, and yes, hip-hop, to this overwhelmingly white festival (in terms of the racial heritage of the paying customers), and I hope the promoters will not let this whole Kanye incident whitewash their philosophy in booking artists for Bonnaroo 2009.
Bring the Balance Back
At this year's Bonnaroo, the babes didn't have to castrate cock rock like the riot grrrls once did; they simply strapped it on. Just as the Dead legacy held its own throughout the weekend, the legend of Led Zeppelin framed the festival. The all-estrogen Lez Zeppelin launched late Thursday into the outersphere of amazing, and we got to fly the friendly skies all long weekend long.
Robert Plant—the blonde ballsy bohemian who put the cock in "cock rock" long before lesser lingams like Axl Rose claimed its masculine mantle—has mellowed with age. His current folk-roots collaboration with Alison Krauss proves that the pendulum has swung to show off his softer side.
Words cannot capture how woefully worn one is by Sunday afternoon of a Bonnaroo weekend, and this Plant and Krauss set provided the perfect capstone concert to close it out (sorry, Widespread Panic). Due to important business in Planet Roo and trying to catch a bit of Broken Social Scene, I arrived late and struggled to find my people. Blessed by persistence, I found friends and got to enjoy the finale with my beloved wife.
While I know I missed much of this show, I hung on every note once there. When Plant stood aside for Alison's achingly awesome version of "Down to the River to Pray," the gospel mood I'd sensed at dawn suddenly saturated my whole being.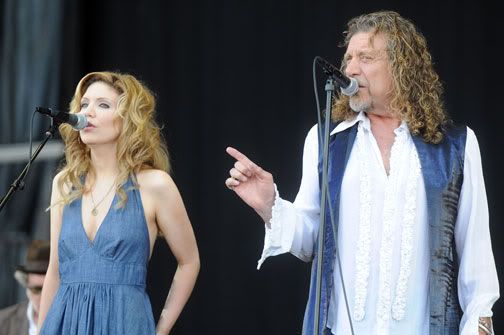 Alison Krauss and Robert Plant; photo by Jeff Kravitz courtesy of Bonnaroo
While I didn't come craving Zeppelin covers, and I hadn't been studying the setlists from the Plant-Krauss tour, I can't say I was disappointed to hear them render an interpretation of "The Battle of Evermore." A duet for male and female vocals originally performed by Plant with Sandy Denny on Zep's zenith of a fourth album, the Krauss and Plant version was perfect.
With my bare feet dancing on the Tennessee dirt, the notion that this was the rock and roll revival I'd been waiting my whole life for made me shake and shout, "Bring it back!"
Bringing the balance back begs for harmony between the genders, an idea so gently obvious in the giants on stage. Bringing the balance back is a theme for our times as our planet teeters on the brink of the unthinkable. Bringing the balance back is a spiritual theme I grew up seeing in the Star Wars saga, so captured in this song's lyric, "Oh dance in the dark of night, Sing to the morning light. The magic runes are writ in gold to bring the balance back." While the behemoth of rock spectacle cannot bring it back, the music Bonnaroo brings at least reminds us that such a future is necessary if not yet impossible.