Evil Urges Ain't Evil Baby: My Morning Jacket Make Another Masterpiece

By Andrew William Smith, Editor
June 10, 2008
With their much anticipated fifth studio album, My Morning Jacket work out some ethical and emotional energy by ever expanding the musical palette, splashing the audio canvas with crunky colors, and serving up some delicious flavors of funk—namely the enigmatic "peanut butter pudding surprise."
The Jacket's big-tent approach to genre has generated a career far too big for the tent shows at the Tennessee festival that made them famous. Consistent critical acclaim and a loyal—even hardcore—fanbase have helped 'em bushwhack a path to freedom where the boys can try pretty much anything. Listening to them purge any prohibitions against their urges, we find our brains galloping across vast geographies to discover various new time zones of sound—and then some.
The quintet earns quite quizzical responses at first listen. What's up with indy-rock's favorite muppet in the silly, surreal, and sho' 'nuff pimpadelic paean to Prince called "Highly Suspicious"? How are the hard-rocking Jacket faithful supposed to gel with the record's mellow middle of easy-listening effervescence?
Of course, at dawn, the jacket worn should be loose-fitting and hardly the stereotypical straightjacket some previously tried to lace the band into by focusing on facial hair, southern roots, or appeal among former Deadheads. At once slinky and sophisticated, the more urban Urges takes us from twang to a defiant and decadent "Dang!"
With his understated charisma and universal appeal, Jim James's vocal juju juices us at track one. Backed by insistent, inspired grooves, "Evil Urges" embraces a humanistic hedonism that says "it ain't evil baby if it ain't hurting anybody." The contagious chorus invokes the innocence of instant gratification as James ooohs "I'm ready for it now!"
After this timeless testimonial to loving without limit, the next track tackles the more primal elements of passion. Since James confessed in Spin magazine that the relationship that inspired so many of the disc's love songs had soured, hearing them now can touch the heart in unexpected ways. With lyrics so poignant they're painful, "Touch Me I'm Going To Scream Pt. 1" touches on the reliably elusive themes of love and lust as it slithers into the ears on a sumptuously spacey soft-rock platter.
Already the topic of too much critical speculation, the tightly tweaked, over-the-top torpedo known as "Highly Suspicious" should generate endless discussion, derision, delight—or dessert recipes—depending on who you talk to.
Giving me my best Jacket-induced goose bumps since "Gideon," the radio-ready, arm-waving anthem "I'm Amazed" thrives on its mantra-like lyrical structure, its mixed socio-spiritual messages, and its sonic twinkles—thanks to steady drums, epic keyboards, and screaming guitars. Here, James's poetic anchor blends the amazing grace of natural mysticism with the crudely befuddled awe appropriate with any romantic response to living inside the modern-day idiocracy.
After changing mood and pace for each of the first four songs, the band settles on its chilled and charming side for the CD's creamy center. Of these, only "Sec Walkin" recalls the band in its more countrified manifestations. "Thank You Too!" is a sappy love song among sappy love songs, and "Two Halves" is a perfect pop ditty about accepting yourself and the company of your own head as you grow older.
In a most beautifully crafted and brutally haunting ballad, "The Librarian" immediately lilts into the deeper layers of the psyche and finds safe lodging there. James achieves a songwriting pinnacle here: at once a tribute to the musty elegance of books in the age of the "interweb" and a uniquely retro—with references to Karen Carpenter and AM radio—seduction to serenade smart, simple, sexy, and shy people everywhere.
While "Easy Morning Rebel" on It Still Moves alludes to the Jesus story, "Look At You" may be the closest thing to a Sunday-morning hymn that the Jacket have ever done—or is it? If it's a song about human power in political terms, it could be taken as sly or sarcastic rather than sincere. But on a record that so brims with soul, I can hardly imagine this as anything but what it sounds like: praise. I don't necessarily expect to hear this live—or folks might just bust out with an amen corner wailing "testify, brother!" But like the best Ben Harper records, Evil Urges bastes us in boogie and booty as much as it bathes us in divine belief. The gospel-tinged tones return on "Smokin From Shootin," another heart-ripping odyssey where James weaves snippets from at least three churchy standards into one smooth couplet.
Before that, we get the Springsteenesque "Aluminum Park" and stunning "Remnants," the only bona fide roof-raising rockers on the album. With its Michael Franti-meets-William Blake lyric, the latter suggests the apocalypse on acid rock. James hollers: "there I saw a new 'heaven' – formed in the bleeding light of dusk/ all souls, all faiths – always – we are one." While riffing on crumbling empires and "the end of the world as we know it" has evolved into a 21st century rock cliché, the terrifying timeliness of the theme means that intuitive listeners never tire of it, and "Remnants" claims pulsating presence in that sub-genre of song.
"Touch Me I'm Going To Scream Pt. 2" picks up where part one left off, and the two tracks frame the whole evil project as though it were a concept album about how the ultimate ambiguity of all things collapses in the tentative loving textures of human emotion. At the end of the day, it's all about feelings and needs, and we need each other to turn each other on. And, James howls, "don't you even turn it off!"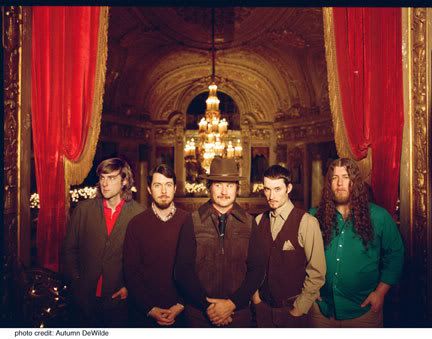 Don't ever turn it off describes how I feel about this record after about the first thirty listens—but it took me at least ten to warm up to its more tender sides. That My Morning Jacket can keep its cozy campfire vibe on such a polished and promising disc is further proof that time could catapult them past even their present ascent to stardom. Whether they will—like predecessors and peers Wilco and the Flaming Lips—continue to sell-out theaters—or claim their mantle as America's Radiohead and take on larger venues—remains to be seen.
Of at least two things, though, we are certain. The Jacket have carved out an incredible niche of optimistic genius in American popular music, making space for groups like Band of Horses and Fleet Foxes and hopefully many more who will melt genre into an intoxicated and sanctified mess. And finally and fundamentally, in just five fierce records, this band has traversed more sonic territory than could be expected in five lifetimes.
So, no matter what happens next, we can give thanks for what has transpired so far. Thanks to Jim James, Two Tone Tommy, Patrick Hallahan, Carl Broemer, and Bo Koster—five "brothers" no longer entirely from Louisville, taking the world one song at a time.
Band Photo by Autumn DeWilde, courtesy of My Morning Jacket. Evil Urges was released today on ATO Records. For more information, please visit http://www.mymorningjacket.com