Rock Legends and a Little Rain Fill Memphis in May*
By Landin King
2008.5
Welcome to the home of the blues and the annual Memphis in May Beale Street Music Festival. Offering a first-rate soaking of rain and some encouraging tornado warnings, this three-day festival got off to a wild, wet, and wonderful start.
With a wide array of acts, no set demographic of people comes out for The Beale Street Music Festival. Bands from every decade bring a different group of people day and night to the different stages in this beautiful park. This festival plays an important enough role in Memphis culture that people who don't even know the music participate in this great event.

As a kick-start to a weekend of completely off the wall and on the money music, Lord T and Eloise, a group with roots in Memphis, took the Cellular South Stage Friday afternoon. A rap entourage highly influenced by bands such as the Beastie Boys, Lord T and Eloise brought down a dynamic set to a reasonably large group of people all incredibly involved in their playful sound.
For an hour, the group dealt a series of entertaining rap songs that had to do with everything from sexy ladies to the Middle East oil imports. A wide array of costumes only further added to the captivating impact of their set. Featuring a Chinese farming costume, a sailor with a gold face and curlers in his hair, an elegant grey suit, and a man with a cow skull mask and a khaki suit, no one had the faintest idea who was the most intriguing person on stage. Rhyming their way into a guest entrance by rapper Al Capone this group offered a final song to all the "high class gentleman" of the audience.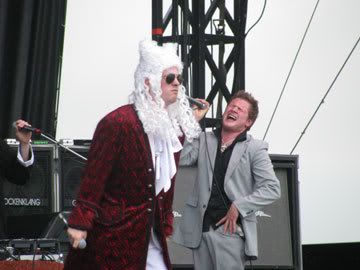 Lord T and Eloise, photo by Landin King
The schedule for Friday night promised Ben Folds and The Roots following Joan Jett and the Blackhearts. Joan Jett showed up in all black leather—looking amazingly young for her age—but then had to play a shortened set due to rain. Ben Folds' sound crew rolled his grand piano and all of his equipment on stage before covering it up with tarps when it starting pouring. Sheets of rain pelted the audience members who were either dripping wet or saved by their plastic ponchos. Regardless, this relentless crowd waited and waited, chanting things like, "Start the show!" and eventually even, "F*** Ben Folds!" Somehow, most of the drenched crowd seemed to forget they were here to see music and were just having fun drinking and playing around in the rain. After about two hours of waiting for nothing, most people started filing out toward their cars.
By Saturday afternoon, the milder weather welcomed Al Kapone—a rapper from Memphis—to the Budweiser Stage. Featuring dancers, other rappers from his label, and even a six year old he pulled out of the crowd to dance with him, Kapone set the festive mood for the day. Immediately following Kapone, Canadian twins Tegan and Sara took the stage. Their poppy sound and young appearance brought out a much younger crowd. Splashing anecdotes between every few songs, their comedic conversation was as entertaining as their music.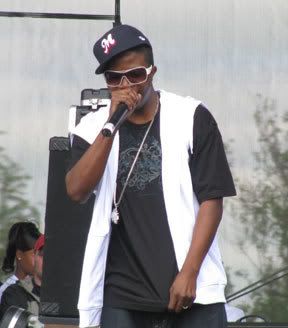 Al Kapone, photo by Landin King

Tegan and Sara, photo by Devon Hodovsky
Late Saturday afternoon, Cat Power took the Cellular South Stage. The crowd let out a whale of approval when the lovely Chan Marshall appeared armed with a coffee cup and a glowing smile. As the music began, people grew reverently silent and simply absorbed every move this band made. Opening with brush drums and careful keys, "Push" was a soothing start to their set. Marshall's raspy voice, foolish dance moves, and clear connection with the audience were entirely captivating. Collaborating guitar player on Cat Power's album The Greatest, Teeny Hodges joined her on stage and delivered some solid guitar leads that only made this performance that much greater.

Cat Power, photo by Landin King
As the sun started setting early Saturday evening, Arrested Development took the stage. They gathered a huge crowd, all ready to dance. Announcing that they were about to play the band's first ever single, "Tennessee," this Memphis crowd went wild. The whole group had hands held high clapping in rhythm with the band and then, on command, jumping up and down together. Showing their reggae roots, Arrested let strips of yellow, green, and red cloth hang from their mics as they played songs about redemption and what they refer to as "positive hip-hop music." After seventeen years of playing, this group of musicians has refined their live set to perfection and knows how to work a crowd.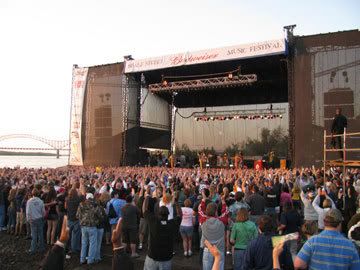 Arrested Development, photo by Landin King
Closing out this amazing Saturday were Lou Reed followed by Carlos Santana. Both of these men have been in the music business longer than a good deal of the audience members had been alive and yet each delivered such a powerful set of music, showing that some things do age to perfection.
Reed took the stage under a dark set of turquoise and purple lights, setting the feeling for his melancholy rock sound. Reed's deep voice is as powerful as his early days with The Velvet Underground. Accompanied by a stand up bass and seven-piece band, this hour and a half set sent piercing vocal quality through the haze of smoke hovering over the audience. Using the track Ecstasy to showcase his band, this song lasted through fifteen minutes of an entrancing instrumental session. As he wound down and everyone reflected on the legend's performance, a faceless audience member commented, "Not bad for an old guy." Everyone seemed to agree.
The third, final, and most beautiful day of the weekend arrived on Sunday. Spirits were high as the mud from Friday's rainstorm had cleared up, and another day of music lay ahead. Each year Memphis in May honors a country around which to base their celebration. This year, Memphis was honoring Turkey. Commemorating this country, the music fest even brought in a band featuring all Turkish lyrics. Very popular overseas, Duman is a rock group that doesn't have an incredibly original sound yet delivered a pretty solid show. Their foreign vocals and appreciation to be part of this festival gathered a great crowd and everyone enjoyed something quite original for the weekend.
Sunday's lineup brought in some classic acts to mingle with the younger group of musicians. Famous names like Aretha Franklin and Jerry Lee Lewis proved that Memphis would always be an epicenter of some unbelievable talent. Right alongside these classic acts were some of today's big names from all different genres of music. O.A.R., Umphree's Mcgee, and Michael Franti & Spearhead all thrilled a primarily college audience with their upbeat music and sing along tunes. The Black Crowes, Finger Eleven, and Fergie each brought a crowd of their own as this festival started coming to a close.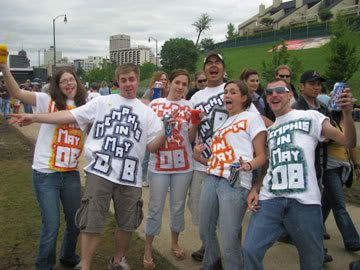 Photo by Landin King
As the sun went down over the Mississippi River, the Memphis Bridge became illuminated with cars heading back to homes near and far. After a long weekend, Memphis in May 2008 came to a close. Excluding the mounds of mud tracks and beer cans to be cleaned up, the weekend was quite successful.