excuse me birthday boy. Where did you get your avatar? It looks slightly familiar.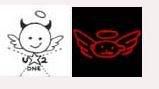 I hope you don't mind me using your thread for this next bit. I came here to see if martijn had made a recent journal entry and noticed your birthday thread. Saving bandwidth I hope. Maybe ABEL can tell marty to look here.
Marty , I've been having trouble sleeping for some time now and have lots of nasty dreams when I do. I woke on Saturday morning from a dream of swimming/floating down a river in India, noticing the Europeans sunbathing on the river bank. It was such a pleasant change from nightmares. Hub later went to the shop for the weekend newspaper and came back with our mail. A postcard! from you! from India!!
Thanks for making me
Rock on lad...all over the world.
Did I mention I met Bono? Probably did...once or twice. Now that wasn't a dream. The memory of that event also makes me
oi Raf,I think I can see you in this picture
__________________