By Andy Smith and Kimberly Egolf, Editors
2007.12
Ah, 2007. How quickly you came and went. And how much good music you managed to deliver along the way. In the wide world, 2007 saw bands and companies employing new means to deliver music, while ways to listen to that music practically overwhelmed the marketplace. 2007 saw reunions by some of music's biggest artists (Do we deserve Zeppelin and Verve in the same year?!) and reissues of many classic albums we've loved. Podcasts exposed us to an increasing number of new artists, many of whom hit the ground running with some of the year's best discs. Yet established artists held their own and proved again why they are artists we respect and love. [Read more]
By Andy Smith, Editor
2007.12
Most rock critics know that name-checking comparisons are a cheap way to convey something much deeper, but when newer artists need a fuller following, such suggestive references can often lead the potential fan like a horse to the trough of holy water.
So, imagine if you will, Ryan Adams fronting a folk outfit with Gillian Welch or a hillbilly Nick Drake nailing some tracks with alt-country matron Nanci Griffith. Dealing in the delicate dance of yin and yang like Alison Krauss and Robert Plant do on the recent Raising Sand, melodic beauty and misty-eyed balance anchor the amazing everybodyfields. Hailing from Johnson City, Tennessee, and transforming a barstool on a Thursday night in Music City (when and where I saw them) into a back porch on the weekend near the Smoky Mountains, these sad and dreamy ballads might wake the ghosts nestled in the tired Appalachian hills and are certain to charm the hick chick within us all.
Touring to support an album called Nothing is Okay, front-persons Sam Quinn and Jill Andrews share some "issues" with Jack and Meg of the White Stripes—they kept the band together long after the lovership soured. However, this anecdote doesn't seem to inspire too much autobiography in the songs. In fact, most everybodyfields songs sound more like found epics—as in found buried by the whisky still on the back forty. Still, something this treacherously timeless could get tedious in the hands of a duo less passionate and professional. But watching Quinn and Andrews perform live for 90 minutes, trading vocal duties and instruments like pairs of soiled garden gloves, I can gladly testify that there's nothing short of an undiluted and powerful folk remedy to the postmodern blues in these dangerous songs of limitless loneliness and loss. (For the record, the band also includes the desirable depth and support of Josh Oliver and Tom Pryor on keyboards and pedal steel respectively.)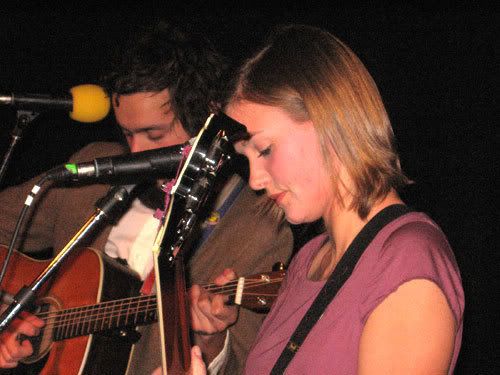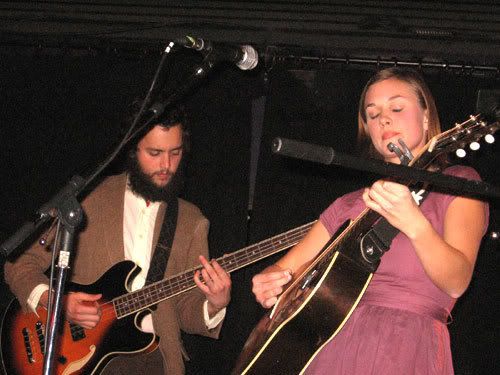 Sam Quinn and Jill Andrews of everybodyfields perform live in Nashville on 12-6-2007. Photos by Andy Smith
Speaking as a Yankabilly with one foot still lingering in my rust-belt roots, the blossoming of gritty, southern garage folk, cowfunk, and alternagrass (or whatever we want to call alt-country this week) has helped me feel oh-so-comfortable in my adopted home deep in the heart of Redneckistan. And it is some of the best music white folks have ever made.
When I arrived in Tennessee more than ten years ago, Nashville proper as a music king already had a nasty reputation. But beyond the bloated and the bland, an unrequited hunger lay nascent in the sleepy hollows and Dixie dirt. While conservative and corporate Nash Vegas curdled enough blood to bring the punk dissent of Jello Biafra's "Let's Go Burn Old Nashville Down" back in 1994, another more subtle and equally seductive response was brewing.
These days, I have an unquenchable pang for twang, so the sheer vastness of dobro doodles, fiddle riffage, and banjo blessings in my neighborhood is more than reassuring, and this east Tennessee entourage has really got it down. That something that sounds this old can sound so fresh is a testimony to the eternal appeal that great poems have when sung to acoustic accompaniment and magic melodies in a minor key. Based on how far into 2008 they are already booked, I'm not the only one who has found and relished in the genius of the everybodyfields. On these rainy, cloudy days that are not exactly autumn but are not yet winter in that particular Tennessse way, I can't stop listening to the inevitable emotional intensity of Nothing is Okay because it's as if the weather wrote these songs.
Everybodyfields put on a great show and are still DIY enough to run their own merch table after the show, but I can't imagine that this aspect will last forever. The songs are just too incredible. When they are huge and too busy to chat with every fan who wants to after a gig, remember that I told you so back in 2007. See them in 2008 if you can; I would go see them again in a heartbeat.