By Tracey Hackett, Contributing Editor
2007.11
U2 fans had more than just turkey and all the trimmings to devour over the recent Thanksgiving holiday. They also had the 20th anniversary re-release of The Joshua Tree, which hit stores on Nov. 20.
Originally released in March 1987, the album has been hailed as the Irish band's masterpiece by U2 fans and rock 'n' roll critics alike — and while it may seem impossible to improve upon perfection, leave it to U2 to do just that.
By Andrew William Smith, Editor
2007.11
While the deluxe edition of the Joshua Tree may be the first introduction for some U2 fans to the poetry of Allen Ginsberg (featured on the track "Drunk Chicken/America", Bono has long been a fan of Ginsberg's work, and Ginsberg has long been a friend of rock and roll.
Bono's tributes to the late Beat poet, practicing Buddhist, and part-time punk rock rapper include an interview segment on a recent Ginsberg DVD and verbal props in his litany of great Americans listed in the Liberty Medal acceptance speech.
Tucked away at the backend of a rarities disc and clocking in at less than two minutes, "Drunk Chicken/America" begs more than the casual listen and deserves better than the reputation as a throwaway track of spoken word spewed over a studio prank.
That said, it's not the stellar standout for either U2 or Ginsberg that we might have hoped for. U2 have better experimental tracks and many more powerful renditions of the poem "America" are in circulation. Even still, the sweet collaboration conveys the enigmatic spirit of what makes both artists enigmatic.
Before this, one of Ginsberg's more impressive poetic offerings on a rock album arrived with the Clash's Combat Rock. There, Ginsberg lends verse the track "Ghetto Defendant" where in one line he references the poet Arthur Rimbaud as "the ghetto prince of gutter poets."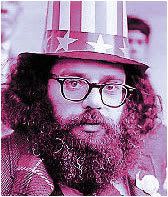 U2 are not alone among rock stars who have worked with the counterculture bard or admired Ginsberg's contribution to American culture. Bob Dylan, Lou Reed, Patti Smith, Phillip Glass, and Sonic Youth are among his admirers.
Born in June 1926 and with us until April 1997, Ginsberg lives on in his words. His repuration as a great American writer has only grown in the decade since his passing.
For more information about the legacy of Allen Ginsberg, visit the Allen Ginsberg trust at www.allenginsberg.org

By Luke Pimentel
2007.11
Weeknight concerts are only for the brave.
After weathering a full day of work, migrating sixty miles from wine country to San Francisco, and enduring a marathon parking nightmare outside of tiny residential venue The Independent (okay, my friend Chris drove – fair's fair), I was more than ready to curl up with a nice fat pillow and saw logs by the time New York indie rockers The Walkmen hit the stage. Judging by the near catatonic shuffle/sway that infected the rest of the audience, I was not alone.
Must've just been a slow night for the city, though, because the band rocked pretty hard.
You've probably heard The Walkmen before; they're one of those bands everybody's heard at least once, often without knowing it. They've been kicking around since 2000, and have turned their unique fusion of retro garage chic and dreamy shoegaze pop into occasional crossover success, dropping the odd tune that gets swiped up for a Saturn commercial or video game, and briefly becomes a hit jingle for America's primetime consumption.
To their credit, the five-piece has not been content to coast on such exposure. 2006 saw them release a pair of highly unconventional efforts, one a track-by-track cover of the 1974 Harry Nilsson album Pussy Cats, the other an original LP called A Hundred Miles Off, which found them adding unusual instrumentations like mariachi trumpets to their core sound.
Tuesday night's setlist was further proof the band are determined to follow their own muse; there was no "We've Been Had," no "The Rat," no "Rue the Day" to be found anywhere. Instead, the set heavily favored tunes from A Hundred Miles Off and showcased a healthy dose of new material being road-tested for their forthcoming album, tentatively due next Spring. This may have disappointed fans looking for material from their critically-adored early albums; nevertheless, it's refreshing to see a band that doesn't feel the need to force its best-known material into listeners' ears, even at the risk of losing commercial viability.
Although they began drifting away from a key-dominated sound with A Hundred Miles Off, keys are still the backbone of their live show. Walter Martin and Peter Bauer traded off bass and keyboard duties throughout the set, with Bauer doing an uncanny Steve Nieve impression as he hunched over both organ and upright piano. Depending on which of those two instruments was being played, the band sounded like either New Wave post-punkers or a nickelodeon soundtrack to the silent movie of your dreams. The alternating clangs and bleeps dueled it out with the vocals of Leithauser, whose distinctive wiry tenor is even more impressive live than it is in the studio; his lungs have enough energy to power the Bronx in mid-August, and it was enthralling just to watch him teeter at the edge of the stage and belt. Drummer Matt Barrick stomped out dirge-like beats on the drum kit, and Paul Maroon filled the gaps with slabs of Rickenbacker guitar drone.
Peter Bauer of the Walkmen. Photo by Luke Pimentel.
Hamilton Leithauser of the Walkmen. Photo by Luke Pimentel.
The set unfolded at a stately pace – they ain't called the Runmen, after all – and there was little interaction with the crowd, save a few scant mumbles from Leithauser. This may have contributed to the slightly dozy vibe that haunted the venue. The set, however, was tight and focused from note one, with the band sapping every last ounce of build-up it could from its trademark sustained chord progressions and shimmering emotional crescendos. Leithauser and Co. did extend the occasional olive branch by dropping in familiar goodies, like a wonderful, driving "138th Street" (from 2004's Bows + Arrows) and, during the encore, a blistering rendition of "Wake Up" (from the band's brilliant debut, 2002's Everyone Who Pretended To Like Me Is Gone) which – finally – got members of the audience exhibiting some voluntary motion.
Although the recent impression is that The Walkmen have dropped off the map a bit since the release of A Hundred Miles Off, the solid attendance and plethora of cameras lining the stage Tuesday night indicated that the band still draws plenty of interest from fans and the press. Also, given that the two opening acts – The Subjects and The Weather Underground – sounded virtually identical to The Walkmen, it's clear that the band's influence on alternative rock is secure. Tuesday's gig was a nice reminder that they won't be going away any time soon and that the indie scene is a better place because of it.
http://i235.photobucket.com/albums/e…/bazan-sml.jpg >
By Landin King
2007.11
Since the formation of Pedro the Lion in 1995, David Bazan has been an influential member of the "indie-rock" musical community. Even though Pedro disbanded in 2006, the band developed a huge fan base throughout their 11-year run. On a Monday night in November, his solo tour brought him back to Nashville.
According to Jim Fairchild of opening act All Smiles: "There's no radder place to be than chilling with Mr. Bazan in a mini van and playing tunes with him all night."
As a side project, Bazan released a self-titled electronic album under the name Headphones in 2005. Then in 2006, Bazan released Fewer Moving Parts, an EP featuring five all new songs recorded acoustic as well as with a full band. Since then, Bazan has been touring playing music from each of his different music projects.
So, on a Monday at the Exit/In, Bazan strolled on stage as humble as the day he began, taking out an off white Fender Telecaster and doing what he knows best. Kicking off his 90 minute set with two brand new tracks, Bazan revealed again his creative genius in songwriting.
With "Cold Beer and Cigarettes" (from the Fewer Moving Parts EP) and "Transcontinental" from Achilles Heel, he got his Nashville crowd singing. Known for making conversation throughout live performances, Bazan took a second to ask if anyone had any questions. "I'm just glad your still writing music!" is the only response. Bazan smiled, quietly thanked the fan, and delivered another brand new track.

Photo by Landin King
The show's main turnout included people who were already very familiar with Bazan and his music. Therefore, instead of asking questions about his material, people would throw out random opinion questions. Someone asked if Bazan was planning on voting in the upcoming election. He replied, "If there is an election I will vote in it," but went on to say, "I honestly don't think there will be an election. I think we will get attacked again and the entire thing will be postponed." Regardless of whether or not he was joking, everyone seemed entertained by such a bold statement.
Next, Bazan played his EP's title track "Fewer Moving Parts," a song dealing with reasons for Pedro the Lion breaking up. Following a story about Bazan's wife begging him not to drink on his previous tour, Bazan played new track "Please Baby Please," which is based on a story that took place here in Nashville, Tennessee.
While it may be obvious that fans are excited about new material coming out, what really brought out the smiles were the tracks that everyone could sing along too. Each classic Bazan tune seemed to have the crowd more captivated with the show.
Recent tours have featured Bazan sitting alone on stage playing his music with only an acoustic guitar. One devoted listener even went as far as to ask why Bazan had swapped to playing the electric. Here again, Bazan's dry humor was showcased as he answered, "Somehow electric guitar just seemed cooler."
With Bazan sporting his forever-famous beard, someone asked if he was participating in "No shave November." Bazan pondered that for a moment in an attempt to be witty and replied, "I'm actually participating in the no shave 21st-century."
Bazan referred to his most of his music as "Back handed love songs" and was the first to say "My opinion doesn't mean shit." Regardless, he still writes all the time and expects to have another solo release sometime in mid 2008. He has also signed on to do another Headphones album, which listeners can expect in early 2009.
Bazan introduced the 15th song in his set as one he didn't write but will be releasing on his upcoming album. Covering Leonard Cohen's Hallelujah, he incorporated a few of his own lyrics. The quiet crowd seemed, as always, sad to see the set end. But Bazan was nice enough to end the night drinking a few beers and hanging out with fans at the bar.
By Jonathan Marx and David Pennington
2007.11
With that old travelin' jones again and sleep deprived after 11 hours of highway hypnosis, we finally arrived fashionably in the city of New Orleans for the Voodoo Experience at City Park. This year's line up featured a plethora of musicians spanning from the biggest political rock band ever to the newest stars from the UK. That's right, we saw Rage Against The Machine(RATM), MIA, Mute Math, The Smashing Pumpkins, The Black Crowes, and Wilco, to name a few.
On day one, New Orleans' own Galactic set the curve for the rest of the weekend, delivering funky set. Galactic featured Chali 2na of Jurrasic 5, Boots Riley of The Coup, and Lyrics Born during their set, closing close by bringing all the MC's featured on stage at the same time. That's one hell of a way to start the day.
Still, our minds had to prepare for MIA and RATM later that evening. The day moved on with a steady pace, awide variety of other shows to see, and many choices to make. We were choosing between the all female Led Zeppelin cover band, Lez Zeppelin, and Black Rebel Motorcycle Club who had recently teamed up with another favorite of ours, Kings of Leon. Each time KOL perform, they further impress fans with something we seldom hear anymore: real, pure rock.
Next on our artist roster was the glorious MIA—Maya Arulpragasam, lead vocalist/mc of MIA adorned herself and her backup vocalist with reflective rainbow jumpsuits and a euro-influenced light show. Jumping from one side of the stage to the other, Maya's seriously sexy attitude exploded onto a perma-grinning crowd. Maya's DJ spun sick, relentless beats to her electro dance hall lyrics. Captivated in a short trance, we watched as she owned that stage.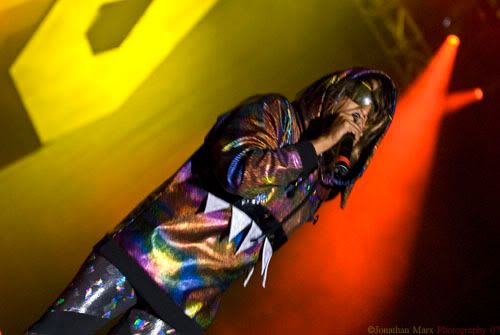 MIA photo by Jonathan Marx
The night was still as young as our spirits and everyone could smell Rage brewing in the air. RATM reunited earlier this year to headline some major shows in America, and this performance was a call for action by all people to stand up for the good things in life, to fight the ongoing fight against social injustices around the world. Rage sent chills up and down the backs of anyone in earshot that night. RATM started the set with an electrified "Testify" and went on ranging from "Bulls On Parade" to "Killing In The Name Of." The massive amounts of energy spewing from the crowd pushed countless fans effortlessly up into the air on top of waves of hands and heads.
The massive crowd kept pushing forward in attempts to be closer than the next, but there was only so far they could go before some of the fans overflowed into the photo pit. Security definitely had their hands full. Truly amazing things occurred that night, including Zach de la Rocha jumping off the stage during "Wake Up" into the arms of his adoring fans, as he enjoyed a little crowd surfing himself. Rage threw down harder and exceeded most of our expectations.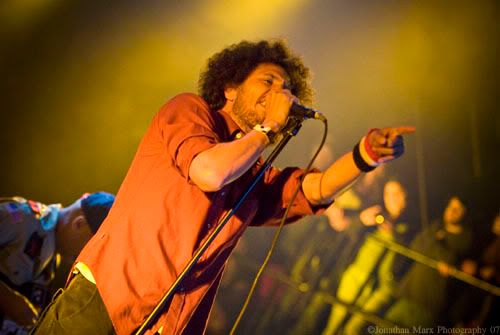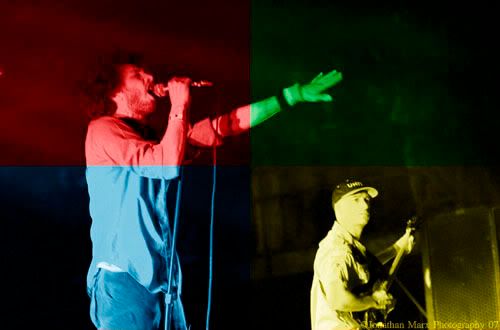 Rage photos by Jonathan Marx
On day two, the morning had broken late after a long night downtown, and after some much needed food, our entourage started its way back to City Park. We arrived right on time for another New Orleans native group, Mute Math. The unique band utilizes all genres of music to create a rock fusion: psychedelic, ambient, and funky jazz sound all rapped up in one. To explain would be futile.
Drummer Darren King epitomized the meaning of hard core, limping a broken foot onto stage with the help of crutches. We thought we had seen it all, until we noticed Darren wearing a set of old headphones held on by a wrap of duct-tape: yes!!! Mute Math opened with the first song off of their debut album, "Collapse," and did they ever connect. The crowd got their money's worth at that show. They fed off of each other's energy rolling through the set like a freight train.
When the train stopped at the station, the crowd refused to get off. Mute Math closed with the encore choice of their hit song, "Typical," where the lead singer brought his grandfather, Papa G, out on stage to play his baritone ukulele. He wore a slick white hat and entertained the crowd just by simply dancing to his grandson's band. How cool would it be to have your grandpa come out on stage and rock with you, right?
During the encore, the drummer was pumping out drum rolls and fills that were like an engine working overtime. He was playing so hard that one of his cymbals fell over, and he just kept rocking the rest of the drum set without it. At one point, he broke time perfectly to throw his cymbal across the stage before the drum tech could get it back on!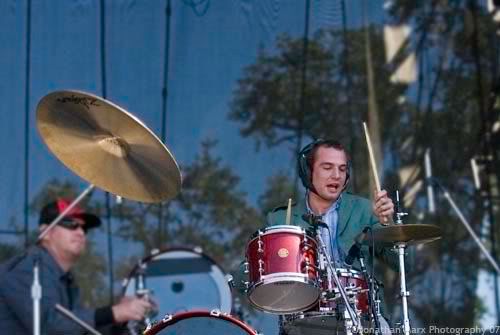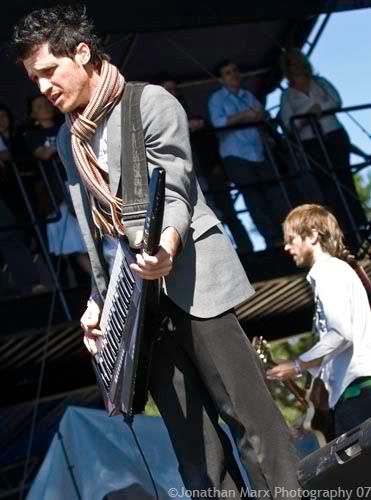 Mute Math photos by Jonathan Marx
Ben Harper and The Innocent Criminals hone a soulful, intimate style of music into a powerful tool that will carry him even further into stardom. Opening "With My Own Two Hands" reminded fans we really can change the world with our own two hands; with Ben Harper screaming it from the very bottom of his gut, this task seems that much easier.
Saturday night came with great expectations for The Smashing Pumpkins. The Pumpkins reformed their group this year with an album and a tour. Corgan's matured voice doesn't have to be on the brink of destruction to show fans that he still knows what he's doing.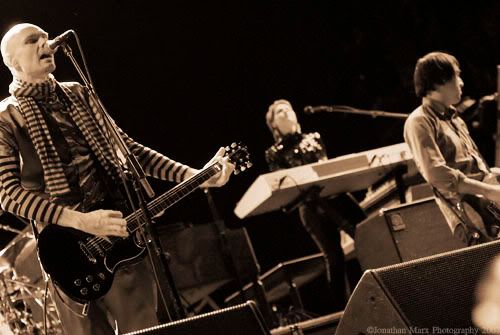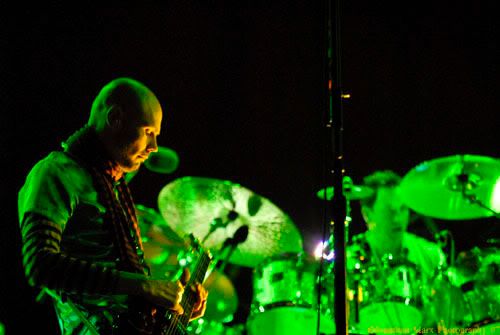 Pumpkin photos by Jonathan Marx
On Sunday, the Black Crowes were scheduled to take the stage just before a headlining show with Wilco, but we needed to save some energy. It wasn't going to be easy. First on the list to see was Clap Your Hands, Say Yeah. What a fantastic display of good feeling rock-n-roll. Only one song had gone by when we couldn't help clapping our hands and screaming "yeah!" For The Black Crowes, the unique voice of Marc Broussard hit our ears as we slowly meandered about. Marc Broussard was just starting his set when we walked by to have a look. His songs rang out, invading our music soaked minds to show us another take on this familiar genre.
Our night and weekend was slowly coming to a close as The Black Crowes took the main stage. Since the recent loss of Marc Ford, the lead guitarist, and Eddie Harsch, the keyboardist, we were anxious to hear what the group would sound like. Much to our relief, the Crowes came out with a bang, opening with "No Speak, No Slave." Very impressed with the new sound, we were dancing and singing along to the familiar songs. The band looked great and sounded even better.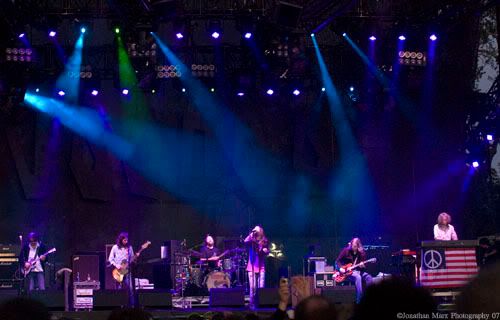 Crowes' photo by Jonathan Marx
Wilco relentlessly picked up where The Black Crowes left off. We had never seen this band live before and were treated to energizing and exciting new rock. Wilco definitely did not drop the crowd's energy level; rather, the band enhanced the already ensuing mass freak-out everyone seemed to be enjoying. Under the shade of blue, everyone gave all.
Wilco photo by Jonathan Marx
The entire place turned upside down for a second; did anyone else feel like that? To an end, Dr. John and his Tribute to New Orleans show eased us into getting down the New Orleans way, with a little voodoo. His voodoo mysticism, rhythm and blues, and funk captivated us all. Quite fitting to go out to Dr. John. He represents New Orleans in every way and wants to remind everyone that the good times still roll down in the city of New Orleans.