By Andy Smith, Editor
2007.10
The wickedly talented and wildly unpredictable Ryan Adams landed his mothership in Nashville on a rainy night in late October. The anxious faithful waited in the misty grey, nervously sucking down nicotine. Why were we worried? Because this was a Ryan Adams show, and we'd spent money and traveled great distances to check out a concert that based on the record could turn out to be an ecstatic delight or an excruciating disaster.
But Ryan Adams apparently loves Nashville as much as Nashville loves Ryan Adams, and we were treated to more than two hours of fan-pleasing, earth-shakingly ridiculous musical genius.
If I'd attended one of the Ryan Adams-is-an-emotional-drama-queen-with-a-wrecking-ball tragedies, this would be a very different review. On the way to the show, my friend and I joked that we'd beat up anyone who provoked Ryan to ruin the night, and then we would kick Ryan's ass. Luckily, no one had to go there.
This critic has a low tolerance for rock stars who don't, for a lack of a better phrase, "put out" for the people who pay their bills and devote an inordinate amount of spare time and spending money to supporting artists' careers. But the collective mood among the fans on this Tuesday was to support Ryan by not inviting a fit. In fact, with all the folks fully sensitized to his internet legends and real-life mistakes, it was almost impossible to holler a drunken affirmation or reckless revelation without another fan admonishing you to keep it cool, lest we prompt another trademarked meltdown.
In fact, the buzz about his mental health and professional stealth have become so much a part of the Ryan Adams culture that even the artist got in on the backlash at one point, feigning an intentionally whiny voice and offering up the exclamation, "OMG, I am having a meltdown." Making fun of himself and his critics in such a vulnerable manner offered a needed tonic to deal with the vigorous criticisms that have crowded the internet message boards with dismissive vitriol. But let's face history: from Van Gogh to Janis Joplin, the great artists have always been high maintenance. And after witnessing him on a good night, I have to say that Ryan Adams is worth it; it's worth putting up with the bad nights to occasionally taste these ineffable tinges and twinges of brilliance.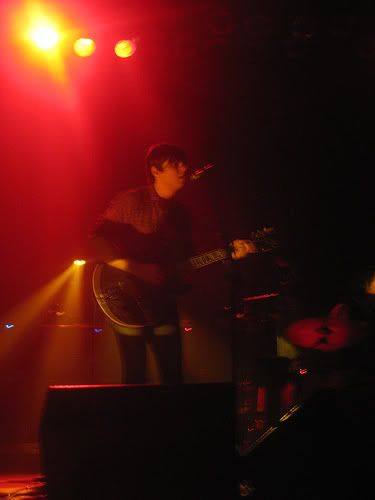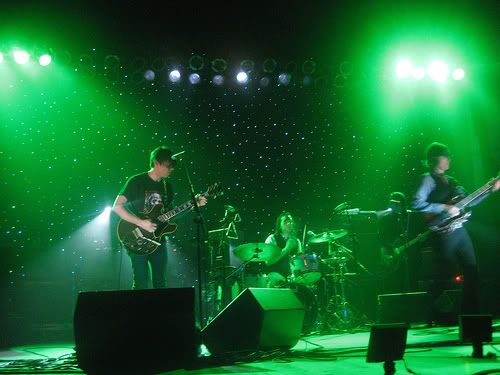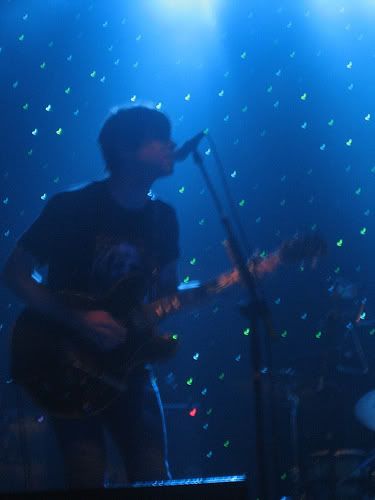 Photos by Liz Kelly
Without an opening band on the bill, fans had plenty of time to patronize the merch table and beer lines, swap past Ryan stories, and share setlist predictions. We welcomed Ryan and the Cardinals when they took the stage around 8:30pm for two spacey sets of intoxicating indie-twang. Unlike some artists that tour to feature songs from a new record while interspersing hits into a packaged plan, a Ryan and the Cardinals gig offers a much more eclectic and unruly affair.
From the bottomless vault of his insatiable vision, Ryan rocked us with two one-hour sets and a twenty minute encore that surveyed his prolific career. The first set kicked off with an almost always perfect "Peaceful Valley" and concluded with Ryan on keyboards for a rocking "Rescue Blues."
Well into the wonderful second set, when the night approached its coda with impeccable versions of "Let It Ride," "A Kiss Before I Go," and "Two," I too quickly realized that even more than two hours of this bliss would not be enough. During the cruelly seductive space jam of "Easy Plateau" that would be our finale, I experienced some sweetly creepy déj
By Tracey Hackett, Contributing Editor
2007.10
Toronto is the place to be Friday and Saturday, Nov. 2 and 3, for U2 fans in search of a good time and a good cause.
That's the weekend for the 5th annual inTO the Heart U2 fan festival (ITH), with all net proceeds from the event benefiting the African Well Fund to help bring potable water to African villages.
This year's entertainment line-up includes performances by international U2 tribute band Elevation, acclaimed Montreal indie band Acrobat, and the U2 Songbook, an ITH original event showcasing artists from a varied array of musical styles — from jazz, soul and acoustic to reggae and techno — presenting their original stylings of U2 numbers.
Another ITH exclusive will be the U2 fan photo exhibit, which will showcase live concert photos of U2 taken by both professional and amateur photographers.
"inTO the Heart is an opportunity for fans from around the globe to meet together and celebrate not only the music, but also the spirit and passion of the world's greatest band — U2! Whether you have been following U2 since the early 80s or are merely a casual U2 listener, inTO the Heart is for you," says the organization's web site.
The U2 Songbook and U2 fan photo exhibit — along with a special 11:30 p.m. performance — are scheduled for Friday night, Nov. 2, at the Gladstone Hotel, located at 1214 Queen St. W. and Dufferin Street. Admission is $15 at the door.
KeeLime, Why Walk Alone, Peter Bloom Band, Gabrielvox of Florida's UV tribute band and many more talented artists will be featured U2 Songbook performers.
Saturday's schedule includes performances by Elevation and Acrobat at Healy's, located at 56 Blue Jays Way and King Street. Admission for those shows is also $15 at the door.
The official host hotel for this year's ITH fan festival is the Sheraton Centre Toronto, located at 123 King St. W., and Saturday's events will kick off with a pre-party at the hotel's Zoo Station Suite.
On Friday, Magic Bus shuttle service will be offered to the Gladstone Hotel events for a fare of $5 per person.
In addition to the fun and festivities, this year's ITH weekend will include memorabilia, prizes and more from U2mart.com.
Tickets for the ITH events are not being sold in advance, but photographers may go online to register up to two high-resolution photographs for display on Friday.
For more information about the 5th annual inTO the Heart U2 fan festival check out the organization's web site at www.intotheheart.com.

By Jonathan Marx
2007.10
Does anyone out there ever wonder how we made it this far? To this day, artists of all kinds have found some incredible ways of spreading their messages, and my favorite has to be the music! Musicians today ooze with classic roots steming from Johnny Cash to Alice Cooper, and B.B. King to Pink Floyd. These days, music fans feed off of catchy beats mixed with bluegrass, spacey voices with shredding guitar riffs, and true substance in lyrical meaning.
The summer of 2007 began with moving from my temporary home in Philadelphia. Afterwards, catching one last Umphrey's McGee show at The Electric Factory on my way out of town. Then, it was off to meet my editor in Asheville, NC for the Kings of Leon show at The Orange Peel.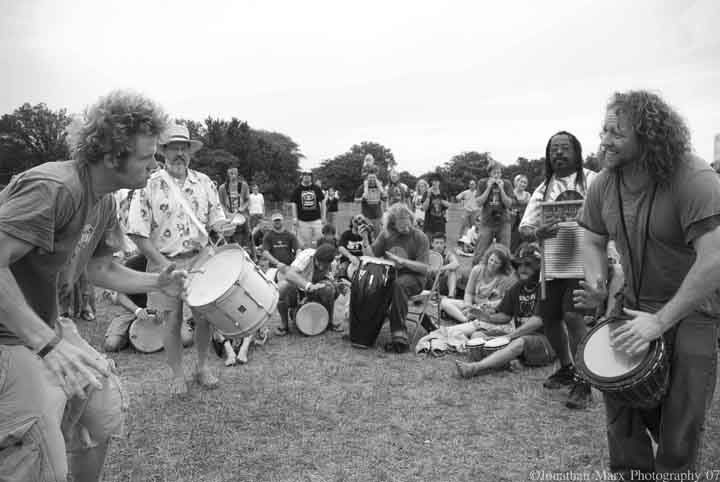 Wakarusa Drum Circle by Jonathan Marx
After Asheville, I was off to fulfill my continuing coverage of the Wakarusa Music and Camping Festival in Lawrence, KS from June 6th-10th. The line up was full of great acts including Widespread Panic, Les Claypool, John Butler Trio, Medeski-Martin-&-Wood, Ben Harper and The Inocent Criminals, Galactic, and Dubconcious, just to name a few. The band Dubconscious broke new ground in Kansas, hailing all the way from friendly Athens, GA. These guys know how to move the people around with some of the clearest, genius lyrics I have heard in a long while.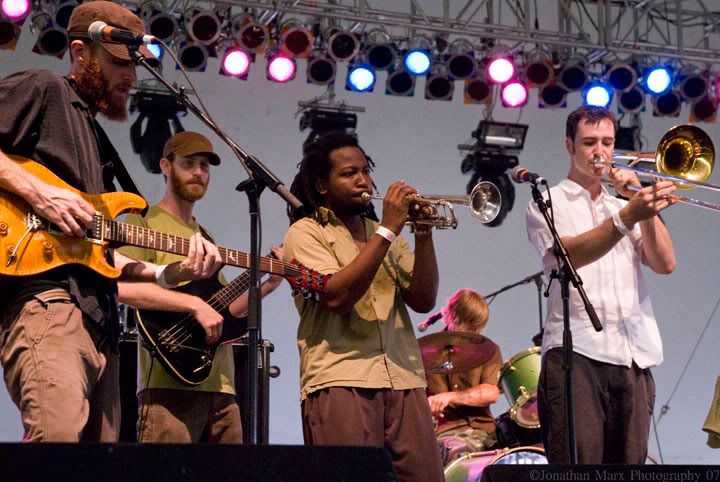 Dubconscious at Wakarusa by Jonathan Marx
John Butler's set started just before sunset and the blazing sun beat down on an even hotter crowd. We all welcomed the night and a headlining show from Widespread Panic. Wakarusa Music Festival takes place the first weekend of June every year; see you there next year?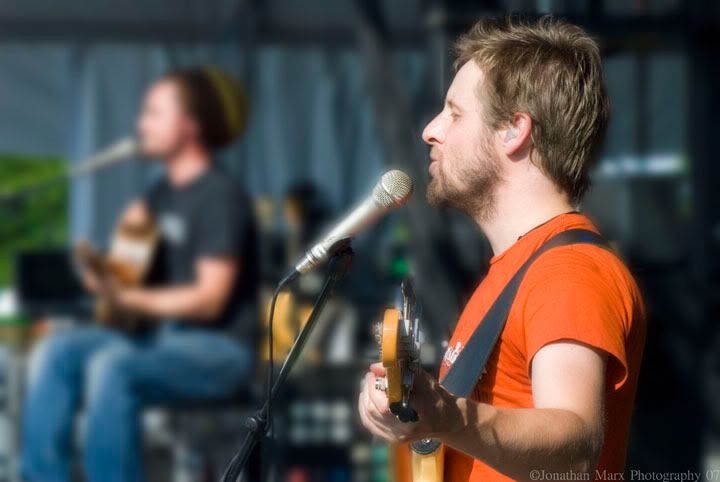 John Butler Trio at Wakarusa by Jonathan Marx

Widespread Panic at Wakarusa by Jonathan Marx
After a short break, I was off to the 11th Annual All Good Music Festival in beautiful Masontown, WV. Bob Weir has been touring with Rat Dog again lately, and they have come out with great results, just finishing out a tour with Keller Williams. Keller Williams is sweeping the country with guitar virtuoso ninja skills that rival the likes of legendary pickers like Ricky Skaggs, Johnny Cash, and String Cheese Incident's Billy Nershi. On the other foot, Keller taps a groovy beat with his whirlwind of guitars and gadgets. He stands out like a woman in white gloves eating a red popscicle when he graces the stage with only himself, 10+ guitars, a looping system, and all sorts of bells and whistles. You never know what will happen when experimental grooves start while he feeds his moods with the crowds influential screams of joy and excitement.
Not only did these bands come in and perform their own sets, but they also dubbed a master of ceremonies, MOE. MOE rains music down on crowds like a tropical storm and washes fans clean of any sad emotions or muddy times. They have, by far, done one of the best MC jobs in this country's history by having had a very large mix of 50+ rotating bands on one stage for three hours, playing multiple songs, then going back to the song they started with to end the massive set.

Moe at AllGood by Jonathan Marx
In this mix of performances, one would never have guessed that Grace Potter and The Noctornals would have come out and blown the top off of Neil Young's "Cortez the Killer," but they did. I did not know what to do with myself except stare at the unbelievable power behind that song at that serendipitous moment in time as it changed all of our lives forever. Many revere Grace Potter as the Janis Joplin/Aretha Franklin of our day. She comes all the way from the mountains of Vermont with her band The Nocturnals to give inspiration and power to the movements music is making these days.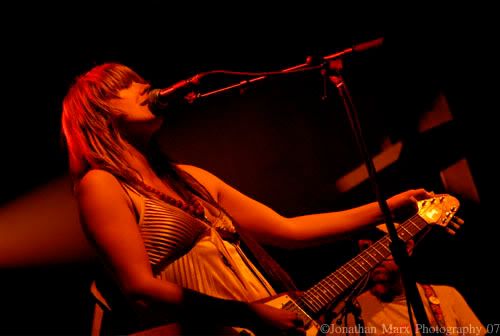 Grace Potter and the Nocturnals at All Good by Jonathan Marx
The next festival on the journey brought me to the southern mid-west. Schwagstock 35 on Aug31th -Sept.2nd is hosted by Bockman's Euphio, an amazing band out of Missouri. The Euphio Campout, as it was sub-named, brought in acts including Madahoochi, Noha Earl, Cindy Woolf, The Schwagg, Devon Allman, and Keller Williams. Keller Williams headlined the weekend with two sets on the first and second days.

Keller Williams at Schwagstock by Jonathan Marx
Only a couple weeks later, I found myself on the road again on my to the Mulberry Mountain Harvest Music Festival in Ozark, AR. This festival just recently got its start a few years ago with the help of a few music fans and the local residents of the Mulberry Mountain and it's surrounding communities. Vince Herman, of Leftover Salmon, The Codetalkers, and more, was the master of ceremonies for the weekend event. The festival was on a flat-top of Mulberry Mountain, making it very easy to get around the festival grounds and hear as much music as possible. The lineup included Herman, The Codetalkers, Railroad Earth, Keller Williams, Speakeasy, New Monsoon, Tea Leaf Green, and Mountains of Venus.

Railroad Earth at Mulberry Mountain by Jonathan Marx
After another successful weekend surrounded by beautiful people with painted faces and flowers in their hair, I knew that the summer festival season was coming to its close. But the concluding moment comes with Halloween weekend and a Rage Against The Machine show at Voodoo Fest in New Orleans. If don't see you there, then get ready for the best story of you lives when I return.