The Forest And The Trees: The First Rothbury Fuels the Future of the Festival Scene

by Andrew William Smith, Editor
July 18, 2008

What do you do when your ambitious resort development in recession-riddled western Michigan faces serious financial woes? Collaborate with an eco-conscious production firm from Colorado to create America's best new rock festival, of course!
Just when we thought this ever-expanding breed of twenty-first-century Woodstock-a-paloozas had finely reached a saturation point, Rothbury appeared on the scene to set a new standard for bringing freaks, fratboys, and serious music fans into a united front on one piece of land for four days of meeting lovely strangers, getting little sleep, taking no showers, and taking in lots of shows. This past 4th of July weekend, the partnership between Boulder-based Madison House Presents and the Double JJ Ranch in Rothbury, Michigan gave the Midwest its magical alternative to Bonnaroo, Coachella, and all the rest of the new crew of camping festivals.
Besides great music all-day and all-night, a few fabulous features helped Rothbury make its mark. Michigan summers have always had great weather, and after a terrifying thunderstorm the day before the event began, we were blessed with warm days, cool nights, and cloudless skies. While deserving a critical review all its own, Rothbury's ambitious greening initiative helped curb the impact inherent to any large-scale event. While campground debris would inevitably occupy the clean-up crews well into the week after, holding the event on a stunning site appears to have motivated folks to help keep the place clean.
The ranch land also offered other things that other festivals could use much more of: trees and shade. Once just a plantation-style stand of pine trees planted about 50-years ago, the spectacular Sherwood Forest earned as many rave reviews as the bands. Decked out in spiritual iconography and decorated in psychedelic artwork, the forest provided a festival within the festival. Folks flocked to the "Reincarnation" installation, hammocks, and soft-carpet of pine needles during the day or got awestruck by the lightshow, fell into a cuddle-puddle, and visited its secret stage with mysterious performers at night.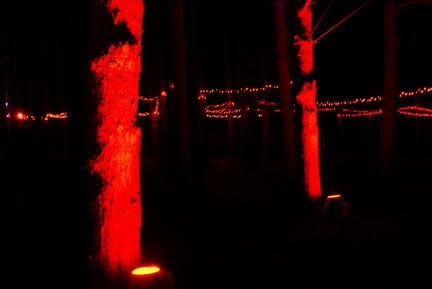 Sherwood Forest At NIght — photo by Andrew C. Leahey
One could walk into the forest on the way to a show and never want to leave, thanks to the wild wonders within and too weird to write about. Or a person could, as I did, go to the forest as a destination and get drawn to either the Odeum or Sherwood Court stage for some shimmering musical surprises.
Anyone who looked at the Rothbury lineup and saw "just another jamband festival" would be justified in that assessment, but the growing diversity in the jammy universe means that it's not just for fans of Phil Lesh and Trey Anastasio (who, of course, were very happy at Rothbury, since the gig featured both).
The blossoming festival movement has been very good to this musical subculture, and the eclectic fusion that now falls under the giant jam umbrella continues to grow. Rothbury courted the hipper tripper with the glow-hoop dance music of jamtronica artists like Lotus and EOTO (both featured at the Tripolee Domes on Thursday night) and raised the rootsy flag with the downhome jamgrass goodness of groups like Yonder Moutain String Band and Railroad Earth.
Rothbury's older sister festival in the South has done a great job to mute (or at lease modulate) the anti-hippy rhetoric by reeling in top-shelf hip-hop, blues, indy-rock, and classic rock artists to festival after festival. While the Roth' can still learn from the 'roo in terms of sheer musical diversity, this flagship festie gave plenty to every shade of musical fan.
A jam-friendly band kept groovy by Trevor Garrod's keyboards and infectious vocals, San Francisco's Tea Leaf Green belongs on both sides of the hippy-hipster fence with groups like My Morning Jacket. On Friday afternoon at the absolutely awesome Ranch Arena stage, Tea Leaf gave us plenty of reason to kick off the Crocs to dance in the dirt and under the sun.
Sam Beam — photo by Andrew William Smith
Following Tea Leaf and sparsely-attended (thanks to a parallel performance by Snoop Dogg), Sam Beam's softly-searing solo set featured a breathtaking rendition of "Resurrection Fern"—my favorite song from The Shepherd's Dog not included in the sensational Iron & Wine set at Bonnaroo. To bask in Beam's beatitudes in the great outdoors is a great thing, and to have experienced this twice in one summer is an unearned blessing I won't soon forget.
One could have finished out Friday without leaving The Ranch Arena. The twisted, colorful performance-art alternative to the two-set headlining spot by festival mainstays Widespread Panic hit this stage at the same time darkness did. Not yet on tour, anticipating a new album called Skeletal Lamping in October, and accompanied by all kinds of creatively costumed guests, of Montreal really gave Rothbury its all.
of Montreal — photo by Andrew C. Leahey
Perched up close and with a smile of superior glee that refused to leave my melting face, I basked in Kevin Barnes's boisterous abilities to channel Wayne Coyne, David Bowie, and Freddie Mercury into a synthadelic glampunk package replete with lyrics about Georges Bataille worthy of commentary in a doctoral dissertation. On a MySpace blog about the upcoming record, Barnes describes his artistic mission as trying to create something "enraging, joyous, discomforting, playful, lovely, unpleasant, freaky, mesmeric. . . something that came close to capturing the labyrinthine complexity of this human consciousness." The Rothbury set was in that ballpark and ended too early for me to call it a night. Thankfully, Sherwood Forest kept me preoccupied until much later—when I wandered to the Sherwood Court and found myself dancing 'til past two in the morning at the ecstatic and over-the-top Bassnectar set.
Anticipating an early departure on Sunday, my Saturday arrived much too quickly. In addition to beginning the day with an excellent panel on Rothbury's green initiatives and going back to the tent before STS9 had finished its epic, early Sunday-morning superset, I also appreciated how this day gave me the chance to discover some new bands and see some old favorites who were, in part, responsible for inspiring me to make the trip to Rothbury in the first place.
In terms of treats new to my ears, the early afternoon set by the alternafolk fastgrass group from Minnesota called Trampled by Turtles was fiercely tight. Forever a fan of Bay Area ska-punk legends Operation Ivy, I'm actually surprised I've never heard of Slightly Stoopid. But this group's fun, funky, and dirty early evening set had me skanking in the trees.
The real features of my Saturday, though, clearly define why America needs its new festivals to fuse music with activism, forge new cultural spaces, and inspire us to remain brave enough to forage for justice even after eight long years of the Bush regime.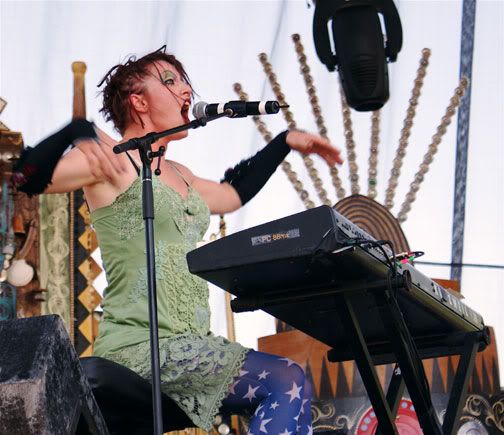 Amanda Palmer of the Dresden Dolls — photo by Andrew C. Leahey
With a set time far too early for music this deviant, the Dresden Dolls devastated the Sherwood Court with their self-described "Brechtian Punk Cabaret." With Amanda Palmer on keyboards and vocals and Brian Viglione on drums, the Dolls make life-altering audio art that defies all the partial categories they temporarily inhabit. With my body clad in far too much black for this time of year or day, I basted in the sun while the Dolls blistered my brain with gems like "Coin Operated Boy" along with perfect covers like Pink Floyd's "In The Flesh" and Fugazi's "Blueprint."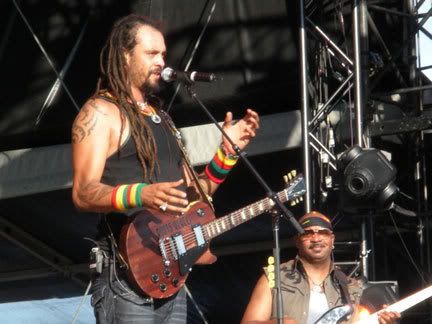 Michael Franti and Spearhead — photo by Herbboy
Rather than just flying in, doing a show, and splitting, Michael Franti spent most of his holiday weekend at Rothbury. On Thursday night, I saw him chillin' on a couch at The Establishment tent checking out the acrobatic pole-dancing of the St. Louis-based burlesque crew Gravity Plays Favorites. Early Friday, he opened Rothbury's ThinkTank with comments on activism and a shortened Spearhead set. On Saturday morning, he helped lead the yoga classes at the Tripolee Domes.
And finally, the pre-dusk mainstage set on Saturday at 6:30pm was a perfect showcase for Spearhead's super-conscious, all organic blend of rock, ska, reggae, funk, hip-hop, and more. With a field filled by people of all ages dancing, Franti and Spearhead featured recent classics like "Yell Fire," whimsical send-ups like the muppet-mosh medley of the Sesame Street theme spliced into the "Rainbow Connection," and several songs from the forthcoming All Rebel Rockers record, including a rousing version of the title track that found Franti literally in the crowd and the heart-felt, arm-waving sing-a-long "I Got Love For You." While some performers avoid between-song banter entirely and others can distract even themselves with it, Franti's focused anecdotes and asides were always a mix of the amusing with the prescient and the profound.
When I first heard about the Rothbury festival, I honestly thought, "This sounds too good to be true." After experiencing its inaugural weekend, I can honestly say that Rothbury made good on most of its promises. The reaction from fans and music writers has been overwhelmingly positive, and before the weekend ended, the producers and promoters were already talking about next year.
Looking back on the event, Madison House Publicity touted the weekend's many achievements—including a world-record with the largest-ever canned-food sculpture sponsored by Conscious Alliance and Whole Foods—and suggested the "the beginning of many great things."
Great things could not come too soon for the financially-pinched owners of the beautiful ranch. A federal judge has forced into escrow the Ranch's portion of the Rothbury proceeds, pending issues in court with its many creditors. Let's hope all this gets resolved in plenty of time for a Rothbury reunion in 2009.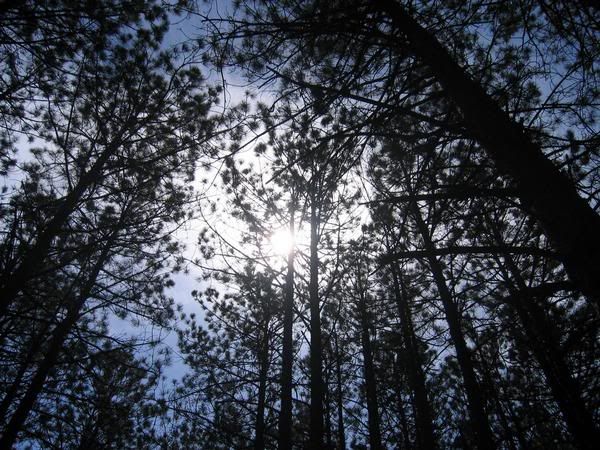 Rothbury Trees — photo by Andrew William Smith