Roundup: From Wakarusa to Mulberry Mountain, a Summer Festival Retrospective*

By Jonathan Marx
2007.10
Does anyone out there ever wonder how we made it this far? To this day, artists of all kinds have found some incredible ways of spreading their messages, and my favorite has to be the music! Musicians today ooze with classic roots steming from Johnny Cash to Alice Cooper, and B.B. King to Pink Floyd. These days, music fans feed off of catchy beats mixed with bluegrass, spacey voices with shredding guitar riffs, and true substance in lyrical meaning.
The summer of 2007 began with moving from my temporary home in Philadelphia. Afterwards, catching one last Umphrey's McGee show at The Electric Factory on my way out of town. Then, it was off to meet my editor in Asheville, NC for the Kings of Leon show at The Orange Peel.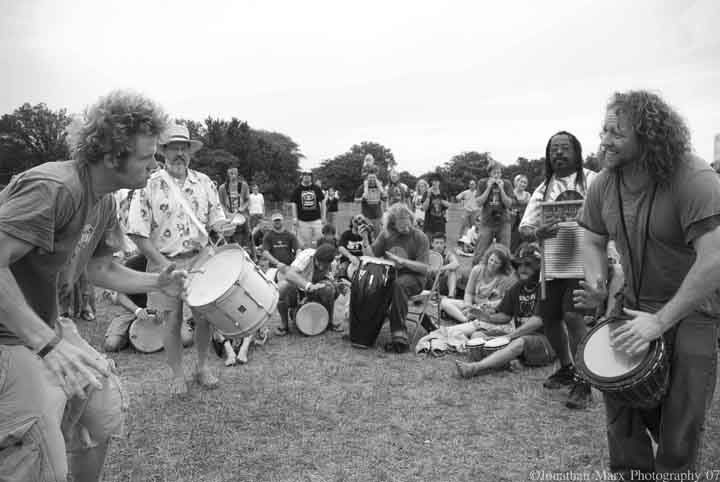 Wakarusa Drum Circle by Jonathan Marx
After Asheville, I was off to fulfill my continuing coverage of the Wakarusa Music and Camping Festival in Lawrence, KS from June 6th-10th. The line up was full of great acts including Widespread Panic, Les Claypool, John Butler Trio, Medeski-Martin-&-Wood, Ben Harper and The Inocent Criminals, Galactic, and Dubconcious, just to name a few. The band Dubconscious broke new ground in Kansas, hailing all the way from friendly Athens, GA. These guys know how to move the people around with some of the clearest, genius lyrics I have heard in a long while.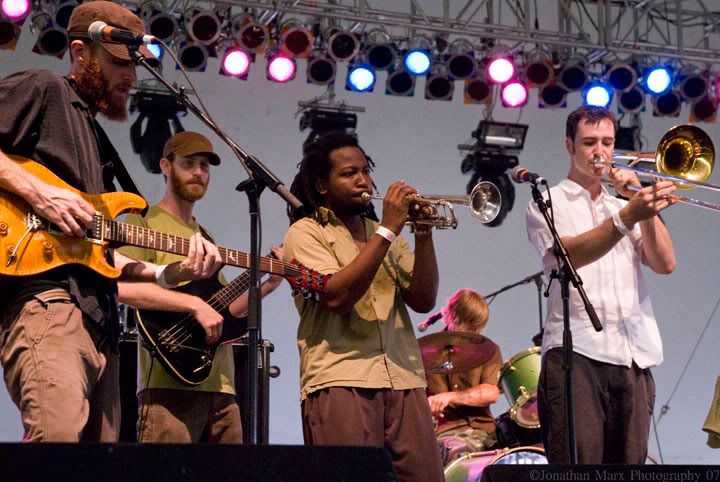 Dubconscious at Wakarusa by Jonathan Marx
John Butler's set started just before sunset and the blazing sun beat down on an even hotter crowd. We all welcomed the night and a headlining show from Widespread Panic. Wakarusa Music Festival takes place the first weekend of June every year; see you there next year?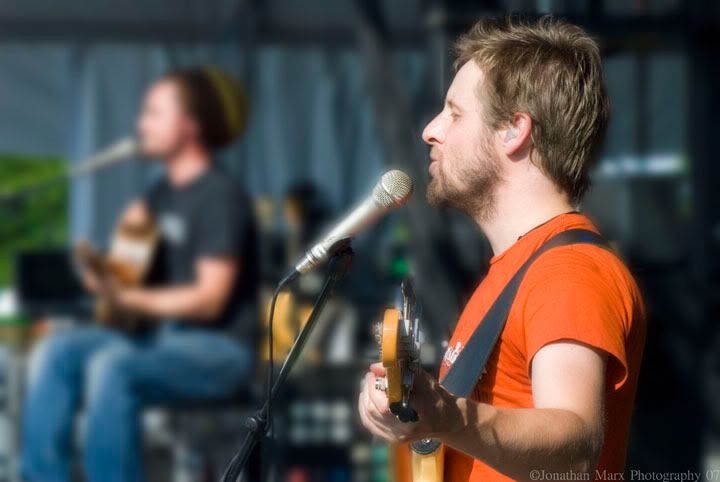 John Butler Trio at Wakarusa by Jonathan Marx

Widespread Panic at Wakarusa by Jonathan Marx
After a short break, I was off to the 11th Annual All Good Music Festival in beautiful Masontown, WV. Bob Weir has been touring with Rat Dog again lately, and they have come out with great results, just finishing out a tour with Keller Williams. Keller Williams is sweeping the country with guitar virtuoso ninja skills that rival the likes of legendary pickers like Ricky Skaggs, Johnny Cash, and String Cheese Incident's Billy Nershi. On the other foot, Keller taps a groovy beat with his whirlwind of guitars and gadgets. He stands out like a woman in white gloves eating a red popscicle when he graces the stage with only himself, 10+ guitars, a looping system, and all sorts of bells and whistles. You never know what will happen when experimental grooves start while he feeds his moods with the crowds influential screams of joy and excitement.
Not only did these bands come in and perform their own sets, but they also dubbed a master of ceremonies, MOE. MOE rains music down on crowds like a tropical storm and washes fans clean of any sad emotions or muddy times. They have, by far, done one of the best MC jobs in this country's history by having had a very large mix of 50+ rotating bands on one stage for three hours, playing multiple songs, then going back to the song they started with to end the massive set.

Moe at AllGood by Jonathan Marx
In this mix of performances, one would never have guessed that Grace Potter and The Noctornals would have come out and blown the top off of Neil Young's "Cortez the Killer," but they did. I did not know what to do with myself except stare at the unbelievable power behind that song at that serendipitous moment in time as it changed all of our lives forever. Many revere Grace Potter as the Janis Joplin/Aretha Franklin of our day. She comes all the way from the mountains of Vermont with her band The Nocturnals to give inspiration and power to the movements music is making these days.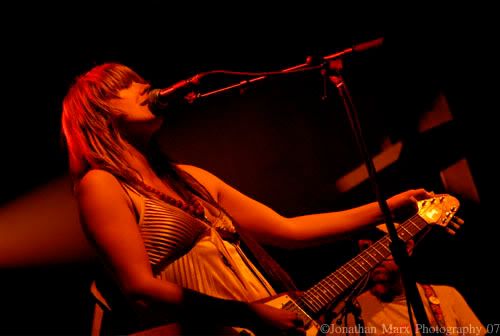 Grace Potter and the Nocturnals at All Good by Jonathan Marx
The next festival on the journey brought me to the southern mid-west. Schwagstock 35 on Aug31th -Sept.2nd is hosted by Bockman's Euphio, an amazing band out of Missouri. The Euphio Campout, as it was sub-named, brought in acts including Madahoochi, Noha Earl, Cindy Woolf, The Schwagg, Devon Allman, and Keller Williams. Keller Williams headlined the weekend with two sets on the first and second days.

Keller Williams at Schwagstock by Jonathan Marx
Only a couple weeks later, I found myself on the road again on my to the Mulberry Mountain Harvest Music Festival in Ozark, AR. This festival just recently got its start a few years ago with the help of a few music fans and the local residents of the Mulberry Mountain and it's surrounding communities. Vince Herman, of Leftover Salmon, The Codetalkers, and more, was the master of ceremonies for the weekend event. The festival was on a flat-top of Mulberry Mountain, making it very easy to get around the festival grounds and hear as much music as possible. The lineup included Herman, The Codetalkers, Railroad Earth, Keller Williams, Speakeasy, New Monsoon, Tea Leaf Green, and Mountains of Venus.

Railroad Earth at Mulberry Mountain by Jonathan Marx
After another successful weekend surrounded by beautiful people with painted faces and flowers in their hair, I knew that the summer festival season was coming to its close. But the concluding moment comes with Halloween weekend and a Rage Against The Machine show at Voodoo Fest in New Orleans. If don't see you there, then get ready for the best story of you lives when I return.